Mechtrix Featured in Wiring Harness News 
Wiring Harness News reached out to Mechtrix Corporation's Bil DeGrace for his expertise on wire prefeeding systems to guest author an article, Critical Attributes of Wire Prefeeders, in their January/February publication.
The article discusses the essential features of wire prefeeders and how a prefeeder can maximize the productivity of your existing wire processing equipment. The article also highlights the release of our new MPF-40 wire prefeeder, designed to work with the latest generations of both bench-top and fully automatic wire processors.
To learn more about the benefits a wire prefeeder can offer and what features to look for when selecting your wire prefeeder: Read 'Critical Attributes of Wire Prefeeders' in the January 2021 issue of Wiring Harness News.
The new MPF‐40 Prefeeder has been designed and developed to handle the wire prefeeding demands of the newest generation of both bench-top and fully automatic wire processing machines.
Mechtrix has incorporated over 30 years of proven robust design features, enhancements, and customer feedback into this new simple to operate prefeeder.
The MPF‐40 features the Mechtrix Auto‐Tune™ motor speed control system that automatically adjusts the feed speed of the prefeeder by continually monitoring the speed and length of the wire being withdrawn from the draw source. This frees up the operator from having to make any adjustments while running the machine.
A High/Low Selector Switch allows for the top speed of 6.5m/second to be reduced to 3.0m/second for more precise feeding control of shorter wires or for feeding benchtop wire processing machines.
The MPF-40 prefeeder has been designed to handle a wide range of wire reels up to 22" wide x 34" in diameter and weighing up to 400 lbs. The MPF-40 is also perfect for pulling wire directly from a wire rack with multiple wire reels for even faster set‐up and change over.
For more information, visit our prefeeders page or contact Mechtrix.
Mechtrix.com & Catalog Updates 
The Mechtrix Corporation has always been committed to finding the right solution for your unique wire processing applications, from offering custom stripping blades to specialized auxiliary equipment. In order to better fulfill that committment and meet the needs of all our customers, we have updated Mechtrix.com and all of our blade catalogs.
All Mechtrix blade catalogs have been expanded upon to show a more complete selection of our over 35,000 different cutting and stripping blades. Furthermore, Mechtrix.com has been updated with a new modern look and responsive design, better suited for use across all web enabled devices.
In the office or on your production floor, Mechtrix.com and our expanded product catalogs are both intended to make finding your wire processing solution even easier.
NEW STYLE

THB® Applicators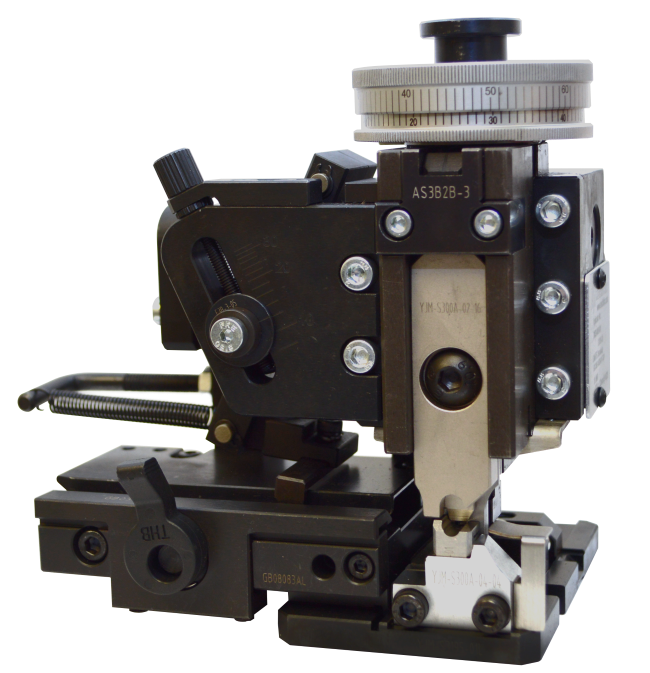 In partnership with THB®, next generation terminal applicators are now available from Mechtrix.
This new generation of end-feed and side-feed terminal applicators feature a new dial crimping head for more precise crimping measurements. The new style of crimping head allows for independent adjustment of both the conductor and insulation crimp heights. The crimp heights can be adjusted over a 2mm range in .02mm increments, giving the user more control over each crimp.
*Available in both mechanical and pneumatic configurations.
For more information, visit our applicators page or contact Mechtrix.
Cyclonic-V® Stripping Blades
The patented
Cyclonic-V®
 stripping blades by Mechtrix, are available for a variety of wire processing machines. The
Cyclonic-V®
 stripping blades are compatible with virtually all Artos, Eubanks, Komax, Schäfer-Megomat, Schleuniger, ShinMaywa, and any other wire processor that utilize separate stripping and cutting blocks. The unique concept behind the Mechtrix
Cyclonic-V® 
stripping blades is completely new to electrical wire stripping blade design. The
Cyclonic-V®
blade form and its cutting action is so innovative that it was awarded two US patents
(8,739,655 & 9,130,361)
for its design.
The Cyclonic-V® design was developed from customers' needs to process difficult or hard to process wire insulations, without having to replace or modify expensive toolholders. The latest generation of wire processing machines are capable of operating with incredible speed and accuracy, but standard stripping blade designs fail to reliably process many of the newer exotic wire insulations with the same efficiency.
Don't let standard stripping blades reduce the optimal performance of your wire processing machine. Contact Mechtrix today to see if the Cyclonic-V® is the right solution for your wire processing needs.
Cyclonic-V® Features
Superior Slicing that creates a cleaner, straighter cut due to the blade form being sharper and 50% thinner than standard stripping blades
Perfectly Sized to match the wire's exact dimensions for optimal insulation removal
Maximum Insulation Cutting through the blade forms 90% circumferential cutting radius results in less tearing of insulation
Integrated Guiding centers the wire in the stripping form and equalizes the cutting depth of the stripping blade into the wire's insulation
One-Sided Geometry slightly rotates the insulation to increase the amount of insulation that is being cut by the stripping blade as the wire processors cutter-head closes
Cyclonic-V® Common Applications
Semi-Rigid PVC (SRPVC)
Irradiated PVC
Kynar® (PVDF)
Tefzel® (ETFE)
Halar® (ECTFE)
Teflon® (FEP) (TFE) (PTFE) (PFA)
Thermoplastic Rubber (TPR)
Hypalon® (CSPE)
Silicone
Ethylene Propylene Rubber (EPR)
Cross-Linked Polyethylene (XLP) (XLPE)